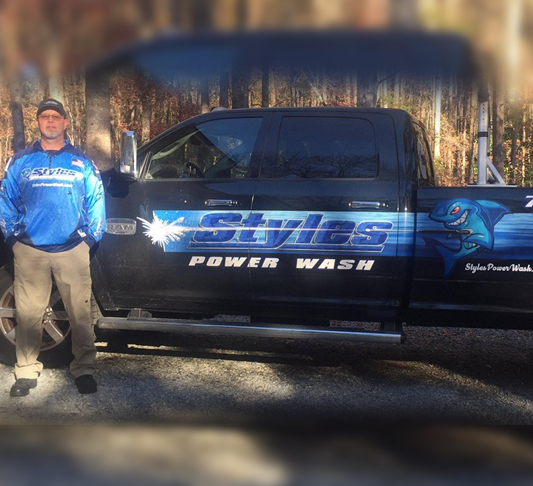 About Us
At Styles Power Wash we have one goal in mind, to offer the very best power washing and window cleaning services available in St. Augustine, FL and the surrounding cities and counties. Since 1992 we have been safely cleaning residential and commercial properties. Dirt, mold and other contaminants, when not cleaned on a regular basis, can lead to wood rot and deterioration of your property. With our advanced truck mounted equipment and 100% water based biodegradable cleaning agents we are well prepared for any size cleaning project.
There are many things that separate Styles Power Wash from out competition. Hiring a contractor that just bought a pressure washer from the local box store and slapping a sign on their vehicle does not make a professional cleaner.
At Styles Power Wash:
All employees, including the owner go to hands on training courses as well as classroom classes that cover proper cleaning techniques, property protection, plant protection and safety! Employees must pass these training courses before they can step foot on anyone's property.
All employees are subject to a criminal background check through The Seal. The Seal also confirms that our company is properly insured for your protection.
All of our cleaning agents are 100% water based, biodegradable and have low VOC emissions.
We use professional, up-to-date truck mounted cleaning equipment that cleans and sanitizes your property at with low pressure to avoid damage that can be caused by high pressure from pressure washers. High pressure cleaning should only ever be used on hard surfaces such as concrete or brick.
All of our employees are wear a uniform and drive clearly marked, logo'd vehicles.
We use extreme care to protect your landscaping. After every house wash or roof cleaning we apply plant wash. This product was designed to reduce the potential damage associated with bleach based cleaning agents. It not only feeds the plants by putting good bacteria into the ground but also neutralizes any bleach that may have have gotten on the plants or ground. Plant wash is a final rinse to make sure all steps have been taken to protect your plants and landscaping while still providing quality services.
We apply final wash as a last step in the house washing process. This is a heavy waxing finishing soap to neutralize the effects of beach based cleaners on surfaces.
At Styles Power Wash, we are a local, family owned and operated business. We understand what our customers want and need, a company they can trust to do the job right the first time, on time and on budget. Our goal is to make the cleaning project as painless and trouble free as possible for our customers. From the first call in to our office until the follow-up afterwards we want to make sure your 100% satisfied with not only the results but with the overall experience we provide.
St. Augustine's ONLY Softwash Systems Authorized Cleaning Company
What Our Customers Say
Expectations were exceeded today! Darren did a great job on our gutters and exterior of the house along with the windows inside the house. Happy to report the wife is happy too. Now it's time for a grilled cheese and beer. Thanks again man!

Tim M.
On time, professional, rates were very reasonable. Did a great job with on our rough looking house and now it looks beautiful! Would definitely recommend and/or use again.

Sydney S.
Our gutters had turned gray from mold & dirt and Styles Power wash made them look brand new. We had to have the house done also and are so glad we did. Before having Styles come, we were thinking we were going to have to get the house & trim painted. I feel like Styles Power wash extended the life of the current paint job for years! Very happy with this service. No complaints at all.

Susan W.
Great job at a fair price. Highly recommended.

Stephen H.
Absolutely great quick service! Fast getting accurate estimate to us, showed up on time , very professional, explained everything so me and my wife fully understood, Darren did our house and concrete driveway. It's unbelievable how clean he got our stuff!!! We highly recommend and WILL use them again!

Robert C.
Darren is super nice and professional! House and driveway looked fantastic! Highly recommend his services!
Had Darren back for a second time now a few months later to clean up my vinyl fence. Looked great and very reasonably priced! Thanks Darren!

MK C
We would highly recommend Styles pressure washing! He is extremely detailed and did a fantastic job! Our house looks shiny and new.

Karen R
Styles Power Wash literally made my house, walkway, and driveway look brandnew! I am astounded at how incredible it looks. They are so professional, kind, and meticulous! If you have a power wash job you would be foolish to look elsewhere! Their prices are great too!

Jill H.
Darren did a great job. He's very knowledgeable and arrived as scheduled and completed things very efficiently. I would highly recommend getting Styles for any of your "House Washing" needs. Pricing was very reasonable for the scope of work I had done. Henry

Henry D.
They did excellent work!! Very pleased! I called and the owner responded immediately, gave a quote that day, and did the work the next day. Couldn't have been a better experience and my house looks amazing!!!

Dr. Nicolino
Darren did an Awesome Job!!! The house looked like it had been freshly painted!! Spit Spot!! Highly Recommend!!

Donna H.
Styles Power Wash did a fabulous job on our home and patios! Darren was very professional and responded quickly to our request for a quote. The entire process was efficient and helpful! We will be recommending the company to our friends. Look forward to working with them again in the future!

Diane W.
Called Styles Power Wash and was pleasantly surprised to speak with the owner, Darren. Scheduled an appointment for an estimate. Showed up promptly, on time, and was friendly and professional. Estimate was extremely fair. Hired his company and on the day of the appointment, Darren arrived at time promised and went right to work. I am thrilled with how clean everything looked. I would highly recommend Styles power wash. Darren's company is one of those rare companies that do the job right , show up on time and complete the job as expected

Debbie R.
So happy with Styles Power Washing. My patio looks brand new . Very impressed with his timeliness and no mess. Highly recommended!!

Deanna S.
Thirty minutes early, price was right, and the job was awesome. Very pleased with the back deck, house and windows. I can finally see my backyard!!!!!!!!!! Thank you Darren and Mike

Charles L.
Excellent work, very thorough. Darren is very professional.

Bill S.
What a great job Styles did on my home, screen enclosure and paver patio! Everything looks brand new! They came when they said they would. I highly recommend them!

Bev S.
Styles Power Wash has taken care of us for several years now. Darren always does an exceptional job. He recently washed the entire outside of my house — a neighbor came up to me and asked when I had the house painted! The house looks terrific and really like it was just painted! Styles Power Wash is HIGHLY recommended.

Allen H.
Allen H.