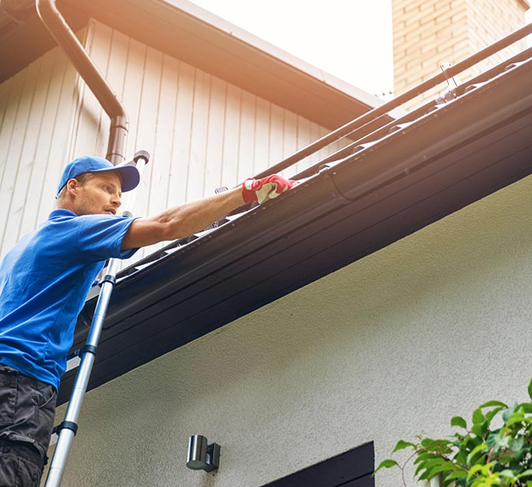 Have your gutters gotten the attention they deserve? Styles Power Wash is proud to bring a gutter cleaning solution to your home. Rain or shine, your property will be ready!
Thank Your Gutters
We feel like gutters don't get their proper recognition. They are, after all, one of the most important ways that your property stays protected in all weather. They're a not-so-glamorous guard for property value, curb appeal, and even health and safety. We rely on gutter cleaning to:
Prevent water damage
Prevent flooding and soil erosion
Prevent the growth of black mold
Prevent pest infestation
An annual gutter cleaning service is the most effective way to invest in these important channels… And your property. You can count on Styles Power Wash to get the job done.
Gutter Cleaning Matters
If your gutters are full to the brim and your downspouts are clogged, it's not a huge mystery what happens next: They can't function properly. This causes issues such as:
Water overflow that causes flooding and damage to your exterior
Overburdened gutters that become so heavy they fall away from the home
Channels clogged with organic matter that makes small trees grow in the gutter
Water damage to your fascia boards, walls and siding, roofs, and foundations
Black mold that can spread into your home
These problems aren't just inconvenient – they can be very expensive in the long run. That's how our team can help.
Your Local Gutter Cleaning Experts!
We are professional gutter cleaners. Being professionals, there are a few do's and don't that you can expect.
We do have a company that is:
We are professional gutter cleaners. Being professionals, there are a few do's and don't that you can expect.
Licensed, bonded, and insured
Professionally trained
Equipped with industry-grade equipment
Certified to use the best gutter cleaning method
We do not have a company that cuts corners or gives you a band-aid solution. Our team takes our job seriously – and we're committed to quality.
Get To Know Our Gutter Cleaning Process
For the Styles team, investing in a superior service from start to finish is our number one priority. Here's how it works:
Get a free estimate to get an instant online quote
Make an appointment for a date and time that works with your schedule
Our technicians arrive uniformed, courteous, and ready to get to work
We prepare the service area and, guided by rigorous safety protocol, set up ladders and cleaning equipment
Remove debris from gutters and downspouts including leaves, organic matter, sticks, and other buildup
Check for clogs and clear any obstructions
Rinse the gutter system to ensure it's working properly
Bag and remove debris to create a picture-perfect property
Rinse the workspace to make it look like you
Leave your home with fully functional gutters!
Don't risk climbing on a ladder, failing the balancing act, and falling. Call our team to get the best professional gutter cleaning service.
Your Safe Gutter Cleaning Alternative
Ladder falls are a serious issue. According to the CDC, ladders are linked to eighty-one percent of falls that result in an emergency room visit.
Gutter cleaning is a balancing act that you can avoid. Our team is fully trained and up-to-date with safety protocol, which ensures that we can meet two important needs: Keep our technicians (and you!) safe, and deliver unbeatable results.
Styles: Professionals You Can Count On
Your home is one of your biggest investments. We know how important it is to find an exterior cleaning company you can trust.
That's why Styles Power Wash has built our company around honesty and quality. You can always count on us to bring you a transparent service – and you can always count on the best results. We come to you with:
More than two decades of experience in the exterior cleaning and property maintenance industry
Upgraded equipment and detergents that bring you the industry's most modern gutter cleaning innovations
Time-tested techniques that are safe, effective, and efficient
Satisfaction 100% guaranteed because you should always have peace of mind with every service
Your gutters are a critical part of your investment. We are proud to make sure that they're ready to do their job in all weather.
With regular gutter cleaning from Styles Power Wash, you aren't just getting great curb appeal: You're getting quality that will last and last.
Our Gutter Cleaning Gallery
What Our Customers Say
Expectations were exceeded today! Darren did a great job on our gutters and exterior of the house along with the windows inside the house. Happy to report the wife is happy too. Now it's time for a grilled cheese and beer. Thanks again man!

Tim M.
On time, professional, rates were very reasonable. Did a great job with on our rough looking house and now it looks beautiful! Would definitely recommend and/or use again.

Sydney S.
Our gutters had turned gray from mold & dirt and Styles Power wash made them look brand new. We had to have the house done also and are so glad we did. Before having Styles come, we were thinking we were going to have to get the house & trim painted. I feel like Styles Power wash extended the life of the current paint job for years! Very happy with this service. No complaints at all.

Susan W.
Great job at a fair price. Highly recommended.

Stephen H.
Absolutely great quick service! Fast getting accurate estimate to us, showed up on time , very professional, explained everything so me and my wife fully understood, Darren did our house and concrete driveway. It's unbelievable how clean he got our stuff!!! We highly recommend and WILL use them again!

Robert C.
Darren is super nice and professional! House and driveway looked fantastic! Highly recommend his services!
Had Darren back for a second time now a few months later to clean up my vinyl fence. Looked great and very reasonably priced! Thanks Darren!

MK C
We would highly recommend Styles pressure washing! He is extremely detailed and did a fantastic job! Our house looks shiny and new.

Karen R
Styles Power Wash literally made my house, walkway, and driveway look brandnew! I am astounded at how incredible it looks. They are so professional, kind, and meticulous! If you have a power wash job you would be foolish to look elsewhere! Their prices are great too!

Jill H.
Darren did a great job. He's very knowledgeable and arrived as scheduled and completed things very efficiently. I would highly recommend getting Styles for any of your "House Washing" needs. Pricing was very reasonable for the scope of work I had done. Henry

Henry D.
They did excellent work!! Very pleased! I called and the owner responded immediately, gave a quote that day, and did the work the next day. Couldn't have been a better experience and my house looks amazing!!!

Dr. Nicolino
Darren did an Awesome Job!!! The house looked like it had been freshly painted!! Spit Spot!! Highly Recommend!!

Donna H.
Styles Power Wash did a fabulous job on our home and patios! Darren was very professional and responded quickly to our request for a quote. The entire process was efficient and helpful! We will be recommending the company to our friends. Look forward to working with them again in the future!

Diane W.
Called Styles Power Wash and was pleasantly surprised to speak with the owner, Darren. Scheduled an appointment for an estimate. Showed up promptly, on time, and was friendly and professional. Estimate was extremely fair. Hired his company and on the day of the appointment, Darren arrived at time promised and went right to work. I am thrilled with how clean everything looked. I would highly recommend Styles power wash. Darren's company is one of those rare companies that do the job right , show up on time and complete the job as expected

Debbie R.
So happy with Styles Power Washing. My patio looks brand new . Very impressed with his timeliness and no mess. Highly recommended!!

Deanna S.
Thirty minutes early, price was right, and the job was awesome. Very pleased with the back deck, house and windows. I can finally see my backyard!!!!!!!!!! Thank you Darren and Mike

Charles L.
Excellent work, very thorough. Darren is very professional.

Bill S.
What a great job Styles did on my home, screen enclosure and paver patio! Everything looks brand new! They came when they said they would. I highly recommend them!

Bev S.
Styles Power Wash has taken care of us for several years now. Darren always does an exceptional job. He recently washed the entire outside of my house — a neighbor came up to me and asked when I had the house painted! The house looks terrific and really like it was just painted! Styles Power Wash is HIGHLY recommended.

Allen H.
Allen H.